Specifications
industrial 3g wifi router ATM router
1.with sim card slot
2.WCDMA/UMTS/HSUPA/HSDPA
3.850/1800/1900/900
4.vpn,openvpn,vpn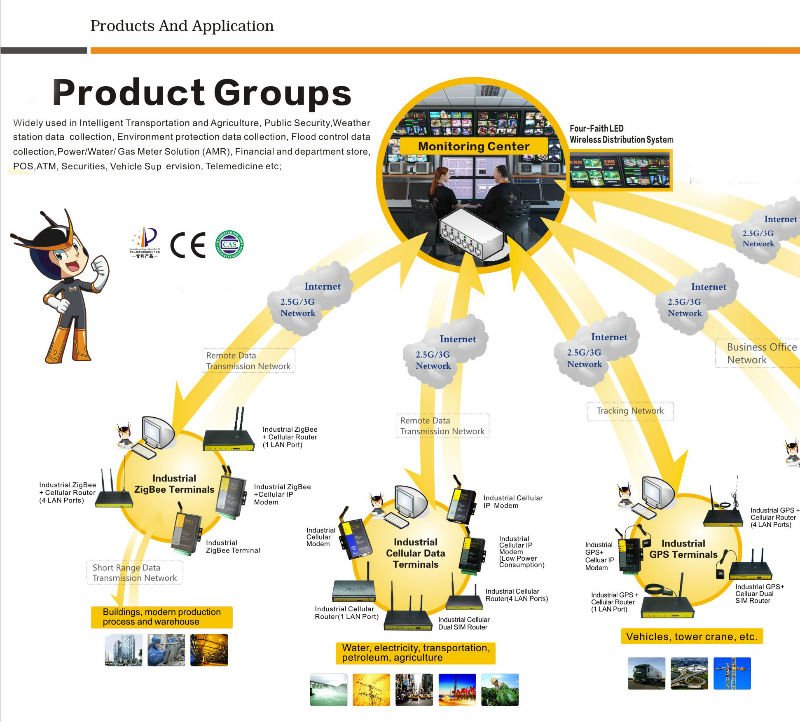 UMTS/WCDMA/HSPA wifi Router 3g For CCTV,IP camera Wireless Connection(F3434)
UMTS/WCDMA/HSPA wifi Router 3g For CCTV,IP camera Wireless Connection(F3434) is based on WIFI (802.11a/b/g) and public 3G/3.5G/4G network, implements seamless connection between wireless local area network (WLAN) and wireless wide area network (WWAN), and provides customers with mobile broadband service. It adopts high-powered ARM9 CPU and embedded real time operating system, and is embedded with WIFI AP module. It provides USB host port, and it supports several USB mobile cards to access internet. It provides a secure, high speed, reliable wireless internet connection for customers, and it has been widely used on SOHO and industrial fields.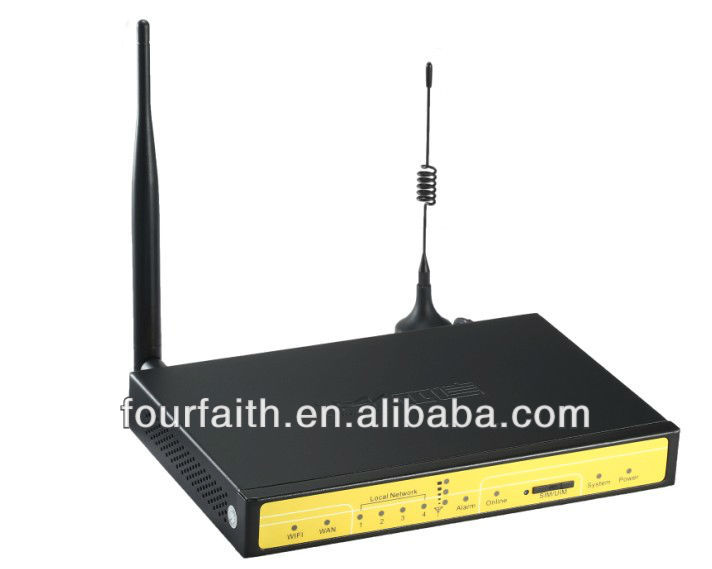 A. Wireless Wide Area Network Specification
Support all the 3G/3.5G/4G network with USB mobile cards
B. Wireless Local Area Network Specification
1. IEEE 802.11a/b/g
2. Max speed : 54Mbps
C. Hardware System
1. Industrial ARM9 CPU,200M
2. FLASH8MB (Extendable to 16MB)
3. SDRAM32MB (Extendable to 64MB)
4. E2PROM64KB
5. Interface:
USB interface: standard A type USB host port, support several USB mobile cards
WIFI AP interface
10/100M WAN Port
4 ports switch (MDI/MDIX auto crossover)
Indicator lights: Power, System, Online, Alarm, Local Network, WLAN
Antenna interface of WLAN: standard SMA male interface, 50 ohm
Power interface: standard 3-PIN power jack
Reset button: restore the router to its original factory default settings

6. Power supply:
Standard power supply: DC 12V/1.5A
Power range: DC 5~35V
7. 3G/3.5G/4G mobile card
Support several USB mobile cards
8. Size:
Outline dimension: 210x136x30 mm
9. Weight: 800 g
10. Others:
Operation temperature:-25~+65ºC
Storage temperature: -40~+85ºC
Humidity: 95% (unfreezing)
D. Software function
1. Support VPN tunnel, including PPTP and L2TP+IPSEC
2. Support auto online keeping mechanism, including online detect ,auto redial when offline to make router always online
3. Support firewall and packet filter
4. Support multi protocols , such as TCP/IP,UDP,ICMP,SMTP,HTTP,POP3,OICQ,TELNET,FTP ,SNMP ,etc.
5. Support dynamic and static route
6. Support DHCP server
7. Support NAT, such as SNAT, DNAT etc.
8. Support dynamic DNS (DDNS)
9. Support DMZ host
10. Support route transmission, data communication by serial port. Support data service center management
11. Support VPDN network
12. Support WEB configure (local and remote)
13. Support telnet management and console
14. Support switch interface, Make multi terminals sharing routers wan connection
15. Support multi WAN dial method, including auto allocated IP, specifying local IP, specifying local and remote IP
16. Can be used as PPP server. Support multi authentication method, such as PAP,CHAP,CHAP-MS ,CHAP-MSV2
17. Support multi debug method, such as web, SYSLOG etc.
18. Support console upgrade firmware
19. Support TFTP upgrade firmware
20. Support multi OS, such as WINDOWS, LINUX, SCO UNIX etc.